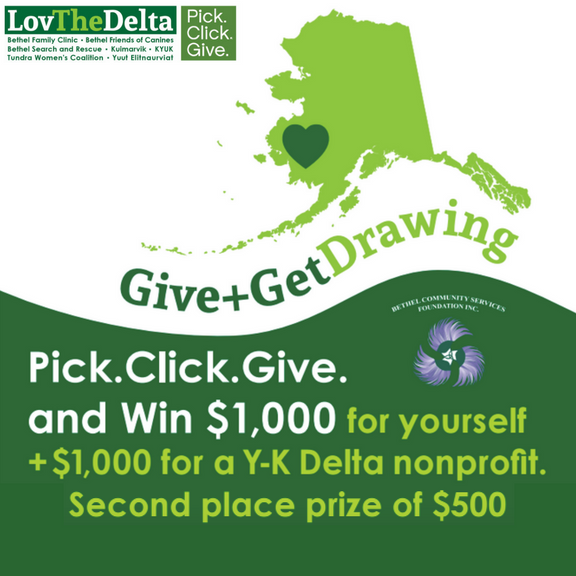 BCSF announces the 4th annual Give+Get Drawing in 2018! Two lucky donors who choose to Pick.Click.Give. to a Y-K Delta-based nonprofit.
1st place prize: $1,000 / 2nd place prize: $500
Pick.Click.Give to any or all of the seven Y-K Delta organizations listed below when you file for your 2017 PFD and you will automatically be entered into the BCSF-sponsored Give+Get Drawing for $1,000 or $500 for you AND the participating Y-K Delta nonprofit of your choice. You will receive one automatic entry into the 2017 Give+Get Drawing for each Y-K Delta organization that you support through Pick.Click.Give – that is as many as SEVEN possible entries into the drawing!
The winner will be announced live on KYUK, date TBA!
Participating Y-K Delta organizations:
Bethel Family Clinic
Bethel Friends of Canines
Bethel Search and Rescue
Kuimarvik (supporting access to the Y-K Pool and swim lessons through the YK Delta Lifesavers)
KYUK
Tundra Women's Coalition
Yuut Elitnaurviat

Past winners:
2017 Zach Fansler (1st) and Mary Pete (2nd Place)
2016  Melody Hoffman (1st place) and Mae Engler (2nd place)
2015  Joan Dewey
What makes this drawing unique?
Winners receive an additional prize: the ability to designate which of the seven participating nonprofits will receive a matching $1,000 and $500 award from BCSF.
"Our goal is to continue the spirit of giving and leverage more dollars to a nonprofit in our region. We thought it would add to the fun and the intention of the drawing to not only give the individual winner cash, but also give that lucky person the opportunity to pick an organization they care about to win, too." – Michelle DeWitt
**Individuals who filed for their PFD without choosing to Pick.Click.Give. can go back to the system and add a contribution or make a change to their contributions. To do this, PFD filers should visit pfd.alaska.gov and clicking the Green "Add or Change My Pick.Click.Give. Donation" button. More information & official drawing rules can be found here.